We're in December, or in Irish (we're told), the month of Christmas.  In Scottish Gaelic, it's effectively (apparently) the darkness.
So let's kick off the countdown to The War on Christmas?! with an Interrobang Interrogation of 404 Ink featured author, Chris McQueer…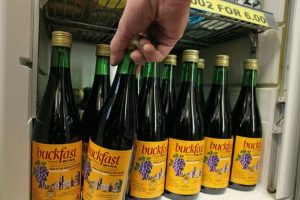 Chris McQueer is a 25 year old writer and sales assistant from Glasgow. His work has appeared in The High Flight fanzine, The Football Pink magazine and most recently in 404 Ink: Error. When he isn't selling shoes, busting queues or writing weird short stories, you will most likely find him spouting nonsense at house parties with a bottle of Buckfast in hand.
And here's how Chris answered our questions:
?!: If you had to write a letter to 'Santa', is there anything you'd particularly like to say to him?
CM: Why did I get a VHS player instead of the PlayStation I requested when I was 8? I already had a perfectly good video player.
?!: What film would you choose to watch at Christmas?
CM: Jingle All the Way with Arnold Schwarzenegger. Not only the best Christmas film of all time but the best film ever made in general.
?!: Is there a Christmas tradition you'd love to get rid of?
CM: Turkey for Christmas dinner. It's so bland and tasteless. No wonder we only eat it once a year.
?!: What song would you like as your entry music at War on Christmas? Or should we just choose something?
CM: Love Grows (Where My Rosemary Goes) by Edison Lighthouse is probably my favourite song ever so that would be nice to walk on to please.
INTERROBANG?! – Making Christmas wishes come true since 2016
?!: What's on your Christmas wishlist this year?
CM: I work in retail so I'm just looking forward to the day off really. And maybe a new laptop. And loads of books.
Save
Save
Save