Interrobang and The Ogilvie's A New World?! is only days away, so we thought we'd titillate your literary senses and bring to you the next tall glass of talent on Friday's lineup. And here he is – Scottish Book Trust Award winning Simon Brown.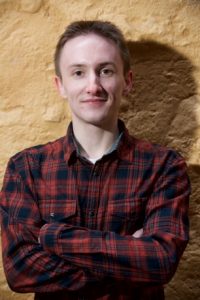 Originally from the Highlands, Simon Brown now lives in Edinburgh. He's been published in 404 Ink and recently won a Scottish Book Trust New Writer's Award. He's currently trying to squeeze out his third novel.
Say hello on Twitter: @SKBwrites
?!: It's time for A New World. What Earth-shattering thing would you invent to usher it in?
A giant anti-human prophylactic because we'd probably fuck it up if we were allowed in.
?!: But if we're stuck in this world for now, where in it would you like to visit to experience a sense of renewal?
I'd love to see Lalibela in Ethiopia, where they have these churches they carved out of the rock.
?!: And what's the most vivid representation of a new world that you've seen on page or screen?
The Road. It's such an atmospheric, claustrophobic read and I can't wait to see how accurate it turns out to be.
?!: Antonín Dvořák thought the New World sounded like his ninth symphony. But what music is playing as your new world crashes into existence?
You'd want the first song everyone heard to be memorable, so probably Mr. Bungle. But if we couldn't get the appropriate public performance licences, then I'd be more than happy to strum the only two chords I know on guitar.
Thanks for that, Simon?! 
?!: Finally (and without giving too much away!) what can you tell us about what you'll be sharing at A New World?!
It's about a farmer tending to some unusual crops.
Here at Interrobang we're all about unusual crops. We wonder if Simon will bring us along some unusual snacks?! Only one way to find out. Come along to Interrobang and The Ogilvie's: A New World, this Friday 7th April, 7pm at The Biscuit Factory. 
You can get tickets on the door, or make it easy on yourself by getting them up front at Eventbrite.