It's almost time to journey into inner and outer space! INTERROBANG: Lost in Space?! blasts off tomorrow – Saturday, 29th April at 2pm, to be precise.
As evidenced by our Lost in Space Interrobang Interrogations, we've assembled something of a dream line-up. We've been mad keen to have the brilliant AURORA ENGINE on the bill since we were blown away by her at the Hidden Door festival's contributors' party!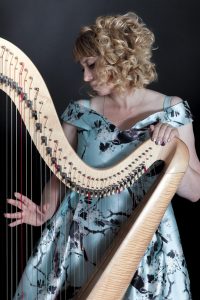 Aurora Engine is a harpist / singer-songwriter / electronic musician living and working in Leith. Originally from County Durham, she sings in her dialect – something between Geordie and Pit Yacker. Her live performances bring harps, loops, effect pedals, vocals and synths, woven together to create ethereal sounds. She has over 100 songs, some in her head, some in the cupboard at home and some on general release.
Aurora Engine loves the north, steam trains and the stars. Which seems fair enough, right?! You can find her at www.auroraengine.com and on the Tweetie Box @AuroraEngine.
And here's how she answered our questions:
?!:  You're packing before blasting off with the Interrobang Space Cadets. What item are you taking with you to represent the human race?
AE:  A harp of course! I have a flight case.
?!: Sitting on the launch pad, you feel like you're starring in a sci-fi movie. What's your favourite piece of science fiction?
AE:  Does Eternal Sunshine of the Spotless Mind count? If yes, then that. If not, Batteries Not Included.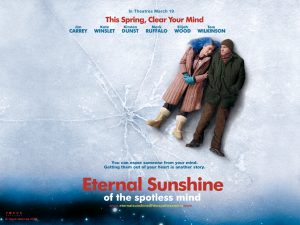 ?!:  Bring them both – it'll free up packing space for Interrobang! As the Space Ship Interrobang pulls away from the Earth, you look down and see the curve of the planet. You play a piece of music to accompany this incredible moment. What is it?
AE: Samuel Barber's Dover Beach.
?!: Matthew Arnold's poem could hardly be more a propos.
?!:  The world lies before us like a land of dreams, indeed! When the track ends, you look down again and see home is a little blue marble. For some reason, you're hit by a vivid memory of a time you lost something down there. What was it?
AE:  Probably my purse and keys.
?!:  Back on the spaceship, you're looking forward to presenting a piece of poetry or prose or music to the weird-looking people you're going to encounter with the Interrobang crew. Without being too spoiler-ific, what can you tell us about it?
AE:  It's straight from space!
Thanks a lot to Aurora Engine for indulging the INTERROBANG?! Interrogation. We want to see your faces when you hear her, so come along to INTERROBANG: Lost In Space?! at The Biscuit Factory on 29 April (admission free, £5 suggested donation). Thanks!