The first of our featured guests for Interrobang – You Can't Go Back Again, Allyson Stack, has taken a few minutes to complete The Interrobang Interrogation. Let's find out more…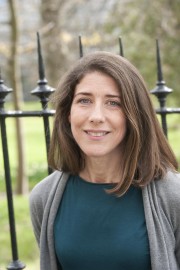 Allyson Stack was educated at Yale, Arizona State and has a PhD from the University of Edinburgh. She is a former screenwriter and now teaches English Literature and Creative Writing at the University of Edinburgh. Her work has appeared in magazines and journals in the US and UK and she was nominated for a Pushcart Prize in 2012. Her acclaimed 2016 novel, Under the Heartless Blue is available from Freight Books.
And here's how she answered our questions:
?!:  The theme of Interrobang #2 is You Can't Go Back Again. Is there anywhere you can't go back again?
AS:  BEING CHILDLESS—i.e., to never having been a mum.
?!:  And where would you like to go for the first time?
AS:  INDIA.
?!:  What song would you like as your entry music? Or should we just choose something?
AS:  JUST CHOOSE SOMETHING.
?!: Here's what we've chosen. Maybe Allyson will let us know on 4th November why it is – or isn't – appropriate…
?!:  What are your favourite and least favourite words?
AS:  CAN'T CHOOSE FAVOURITES. IT WOULD BE LIKE PICKING A FAVOURITE CHILD.
?!:  Anything else you'd like to share with us?
…
Thanks a lot to Allyson for indulging Interrobang's Interrogation. Come along to Interrobang – You Can't Go Back Again on 4th November and find out whether whether we've picked the right tune!
Save
Save
Save