Another one of our featured guests for Interrobang – You Can't Go Back Again, Daniel Shand, has taken a few minutes to complete The Interrobang Interrogation. Let's find out more…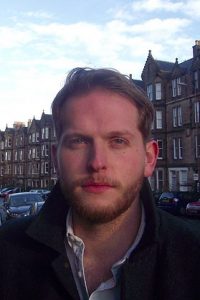 Daniel Shand is another Edinburgh writer. His first book, called Fallow, is being published later this month on Sandstone Press. As luck would have it, it's a novel all about two lads who can't go home again—they're literally on the run.
Here's how Daniel answered our questions:
?!: The theme of Interrobang #2 is You Can't Go Back Again. Is there anywhere you can't go back again?
DS: The only place I've ever been barred from is my old student union. Not for any particularly interesting reason—just for being a drunk clown. It wasn't even a lifetime ban, as all the best bans are. It was something rubbish like two weeks.
?!: And where would you like to go for the first time?
DS: Shetland—never been, always fancied it.
?!: What song would you like as your entry music? Or should we just choose something?
DS: Pick me something please.
[Ricky Interrobang sez: I checked, and was kind of surprised that Peter Murphy didn't have the writerly gumption to include the word "fallow" in the lyrics for this.]
?!: What are your favourite and least favourite words?
DS: For favourite, can I have 'complex'? It's a great one for showing you know something's complicated without risking your neck on anything too specific.
For least favourite, I'll say 'February', because of its first R—the one I didn't discover until embarrassingly late in life.
?!: Anything else you'd like to share with us?
DS: Yep—my launch is coming up in a few weeks. Here's the link: https://www.facebook.com/events/2110797415812245/
Thanks a lot to Daniel for indulging Interrobang's Interrogation. Come along to Interrobang – You Can't Go Back Again on 4th November and find out why Beth and Ricky have been chatting about how excited they are to see and hear him read again!
Save
Save
Save
Save
Save