As the most important day of the cycle approaches, INTERROBANG?! is keeping its ground game strong and putting in a last big push. The latest of our featured guests for Interrobang – You Can't Go Back Again, Elise Hadgraft, has taken a few minutes to complete The Interrobang Interrogation. Let's find out more…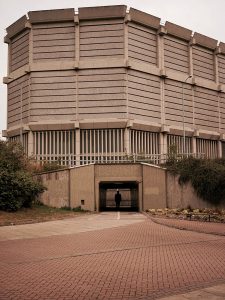 Elise Hadgraft is a Mancunian mother by day self-appointed 'punk rock poet' by night…..unless it's an afternoon gig, she's adaptable like that. She started writing poetry to impress boys sometime around 2008 and found herself spending several sorry years on the literary naughty step for her trouble. Having passed for suitably contrite she's, of late, been allowed back out to terrorise the neighbourhood with questionable rhyme schemes and no solid grasp of punctuation.
Here's how Elise answered our questions:
?!: The theme of Interrobang #2 is You Can't Go Back Again. Is there anywhere you can't go back again?
EH: Oh, multiple places. Most recently I found myself chucked out of the Manchester Northern Soul scene for being slightly peeved when some mad bugger threw my fella down the stairs…let's just leave it at "you should've see the other guy."
?!: And where would you like to go for the first time?
EH:  I'm too skint to contemplate much in the way of travel, though (and don't ask me how I put it off for 26 years) I went to Sheffield for the first time last month and had a bit of a Brutalist fangirl moment outside my favourite building.
?!: What song would you like as your entry music? Or should we just choose something?
EH: Anything by Pulp. Except Common People.
"Mother, I can never go home again…"
?!: What are your favourite and least favourite words?
EH: I cannot abide the word 'moist'. Any word that is not 'moist' is a potential contender for favourite.
?!: Anything else you'd like to share with us?
EH: My bag of sweets, it's in the back of this van full of puppies…
Thanks a lot to Elise for indulging Interrobang's Interrogation. Come along to Interrobang – You Can't Go Back Again on 4th November and she'll slam you black and blue – no stairs required!

Save