The bumper crop of Interrobang Interrogations for You Can't Go Back Again?! continues today with Katharine Macfarlane, who wowed the Interrobangers with her set at the Oxjam Edinburgh Takeover.
Let's find out more…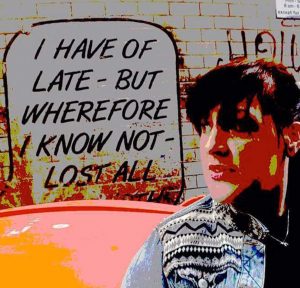 By day Katharine is a librarian, sharing stories and songs with children of all ages. At night she reads poems to grown ups. Rooted in the landscape of the west of Scotland, Katharine Macfarlane's lyrical poetry blends with discussion of traditional Scottish culture and history and myths from the wider Celtic world to provide a creative reimagining of women's voices. WidelKissssy published and broadcast, she is currently the Harpies, Fechters and Quines Slam Champion.
The evocative language used by Katharine Macfarlane to bring Scottish towns and countryside to life, using fleeting imagery and enchanting chronicles, has had listeners falling like roses thrown upon theatre stages – The Mumble
And here's how Katharine answered our questions:
?!: The theme of Interrobang #2 is You Can't Go Back Again. Is there anywhere you can't go back again?
KM:  Oh there used to be lots of places I wouldn't go back to but I've got terribly brave over the past few years and have revisited them all I think…and had a great time doing it…none of the malevolent ghosts I was expecting!
?!: And where would you like to go for the first time?
KM: Finland, Norway, Cape Breton, Orkney, Canna…ach, there's a whole world I'd like to see…
?!: What song would you like as your entry music? Or should we just choose something?
KM: I'm sure it should be something trad…maybe some waulking song or other but actually my internal soundtrack is almost always country! Dolly with Light of a Clear Blue Morning from New Harvest…it's the best way to start a morning…or Seven Nation Army…or Something to Believe In by King Creosote…or I Wonder by Rodriguez…Ghosts of Leith, Blue Rose Code…oh, maybe Warrior by Reely Jiggered…aw hell, you just choose something!
?!: "I'm never, never, never coming home"…? It's gotta be this, hasn't it?!
?!: What are your favourite and least favourite words?
KM: Joy is my favourite word above all others and has been for as long as I can remember…in Gaelic I've always loved the word sòlas which means light but can also mean comfort, solace, joy or luminous. Least favourite word? No. I don't like no. Or unnecessary.
?!: Anything else you'd like to share with us?
I longed to be able to listen to this kind of material as a wee girl and still find it slightly miraculous that it's freely available now – enjoy! X
Thanks a lot to Katharine for sharing that treasure trove – and for indulging Interrobang's Interrogation! Come along to Interrobang – You Can't Go Back Again on 4th November and find out why we moved so quickly to sign her up after Oxjam!
Save
Save