They say You Can't Go Back Again, but with the help of a full house at Woodland Creatures, we proved them wrong, didn't we?!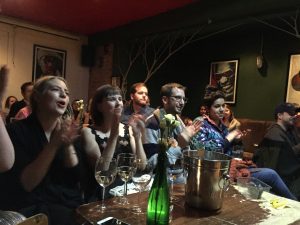 Thanks to our brilliant featured guests, Allyson Stack, Daniel Shand, and Elise Hadgraft, for helping us avoid the dreaded "difficult second album" syndrome. Thanks to our excellent volunteer performers. And thanks to our intrepid "Edith" and "Harry" for submitting to Jacques' Big Two-Hander.
Thanks again to our co-Interrobanger Jacques Tsiantar for guiding Edith and Harry through our recurring bit, and for handling the sound desk. Thanks also to Ricky's bandmates in Nerd Bait, Stephanie and Paul, for providing music at the last minute when Katharine Macfarlane couldn't join us through illness. We're really looking forward to having her for series 2! And thanks to our good pal, Tonsy for these awesome photos! And finally, thanks to the folks at Woodland Creatures for taking such good care of all of us.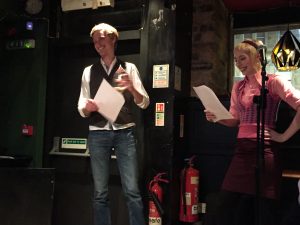 Most of all, thanks to our audience for equaling the enthusiasm displayed at the INTERROBANG?! premiere!
As announced at the show, the next INTERROBANG?! is going to be a very special festive episode. Bring your loudest voices, your Christmas jumpers, and five minutes of your own material on… what?! Keep checking in here, and on our Twitter or Facebook for more details as they emerge. It's going to be super-exciting, and we can't wait to share it all with you!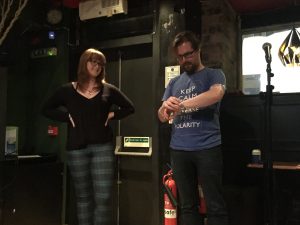 Save