It's Monday – BOO! But according to Facebook, it only four days till Friday and the Edinburgh launch of Chris McQueer's brilliant short story collection HINGS at the Biscuit Factory – YAY!
The latest performer to submit to the INTERROBANG‽ Interrogation is Martin Geraghty. He's a man of fine taste.
A collection of HINGS. Apart from the ones I've read before, The shed and and Lads are standouts so far. Had to refrain from OD-ing on it? pic.twitter.com/aegwihnKGe

— Martin Geraghty (@Marting140611) 21 July 2017
If you've seen Martin as an open mic-er at our pals Inky Fingers, then you'll know why he's a great match-up for the HINGS launch.
If you haven't, well – read on…
‽:  We reckon Chris has assembled just about the best spoken word/live lit/poetry line-up  that anyone can see this year for the Edinburgh HINGS launch event. We're super-chuffed to be hosting it. How did you come to be on the bill?
MG:  I STARTED WRITING JUST OVER A YEAR AGO. I WAS WRITING A NOVEL WHICH WAS QUITE HEAVY AT POINTS, LATE ONE NIGHT, NEEDING A BREAK FROM WRITING I WENT ONLINE, I STUMBLED ACROSS CHRIS READING SHIFTSWAP AT INTERROBANG, I WAS BLOWN AWAY. I WENT TO BED BUT HIS STORY GETTING SWIRLING IN MY MIND.
Yeah. That'll do it, right enough.
IDEAS FOR SHORT STORIES SWIRLED IN MY MIND, UNABLE TO SLEEP I GOT UP AND WROTE MY FIRST SHORT STORY. TWO WEEKS LATER, I READ THE STORY AT INKY FINGERS. I WROTE ANOTHER STORY & WENT BACK TO INKY FINGERS THE FOLLOWING MONTH, CHRIS WAS HEADLINING THE EVENT. I READ MY SHORT STORY & CHRIS CONTACTED ME AFTERWARDS SAYING HOW MUCH HE LOVED THE STORY. HE LATER ASKED ME TO READ IT AT HIS LAUNCH NIGHT.
‽:  A picture question – have you seen all the awesome HINGS photoshops on Twitter? If you haven't, you can check them out here. Which one's your favourite?
MG:
@ChrisMcQueer pic.twitter.com/vgsYmSZhT4

— K8z? (@edirBcM_eitaK) June 30, 2017
‽:  Funky! Hot Chocolate's Errol Brown/Interrobang's Ricky Brown. Coincidence‽ We think not! Is there a particular story of Chris's that you're hoping to hear in the flesh at The Biscuit Factory on Friday? And if so, why that one?
MG:  THE SHED. I'VE JUST READ IT THIS MORNING. ABSOLUTELY LOVE IT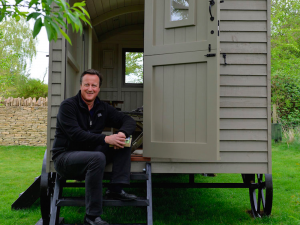 ‽:  The HINGS launch is going to be a bit of a party, so we'd like to play some walk-on music for you. Care to nominate a HINGS-y tune?
MG: PREDICTABLE AS HECK BUT IT'S GOT TO BE ALL THESE HINGS THAT I'VE DONE: THE KILLERS
‽:  We'd probably have picked All The Hings She Said, so you're alright. Finally, without giving away too many spoilers, what can you tell us about what you're going to be sharing with us on Friday?
MJ:  I SHALL BE READING A STORY ABOUT A WEE MAN CALLED CAMMY AND HIS OBSERVATIONS ABOUT HOW OUR TOWN CENTRE STREETS ARE NOW BEING DOMINATED BY CERTAIN TYPES OF BUSINESSES.
Well, colour us intrigued!  Thanks to Martin for indulging the Interrobang Interrogation!  By the way, we're hoping to have a wee Shiftswap-shaped surprise for you on Friday…. 
Already got your copy of HINGS from 404 INK or a good bookshop near you? Then book a free ticket for the launch via Eventbrite.
Not got a copy of HINGS? Book a £3 ticket, also via Eventbrite, and enjoy a discounted £5 copy of Chris's awesome debut.