The first of our featured guests for Interrobang – The First Time, Ross McCleary, has taken a few minutes to complete The Interrobang Interrogation. Bangin!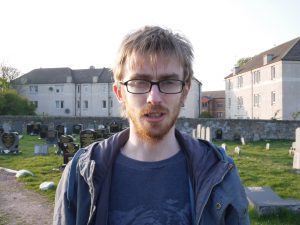 Ross is from Edinburgh. His work has appeared far and wide, near and a little too close. He has a pamphlet published by Spacecraft Press, and a novella/book/text published by Maudlin House based out of Illinois. How cool is that? He is a writer for poets against humanity, an organiser for Inky Fingers, and an editor of podcast journal Lies, Dreaming.
And here's how he answered our questions:
?!:  The theme of the first Interrobang is The First Time. When did you first realise you wanted to write?
RMcC:  I don't think I ever didn't want to write. I remember writing when I was very young, then again in my teens, and beyond. There are huge weird gaps where I didn't but those are hard to remember insofar as I can't explain why I didn't write in those periods. Some time after university I began to write on a semi-regular basis. Then some time after that, at some point caught between writing and not writing, I chose writing and after that I've tended to write every day. So while I haven't ever not wanted to write, there have been periods in which I've had to rediscover the need to write that I have always had.
?!:  And what's the first book you remember reading?
RMcC:  The Worst Witch? Or maybe a Roald Dahl one? I reckon it's likely that my first book was one of those Magic Key books – there was one where they get shrunk down and go inside a dolls house. That's probably one of the first.
?!:  What song would you like as your entry music? Or should we just choose something?
RMcC:  Hmmm. I'll get back to you on this, but I'd be intrigued to know what you thought would suit!
?!:  In honour of the Artist of your book on Maudlin Press, and in light of your alleged Billy Crystalness, how about This Charming Man? Or What (S)he Said [see next question]? …Yep, we're feeling the second one…?!
RMcC:  Haha, yes!!!
?!:  What are your most and least favourite words?
RMcC:  Most – Expression. My favourite words come and go.
Least – The refrain in my book is "he says" and because I have performed it a lot I now hate the word "says" .
?!:  Anything else you'd like to share with us?
RMcC:  I'm probably going to be reading something about working in an office and I wrote this instead of working so if I am unemployed by the time the night comes around you'll know why.
Thanks a lot to Ross for indulging Interrobang's Interrogation. Come along to Interrobang – The First Time on 7 October and find out whether Ross is still employed!
Save
Save