The last of our featured guests, Kaite Welsh, has taken a few minutes to complete The Interrobang Interrogation in time for The First Time tomorrow night. Thanks, Kaite!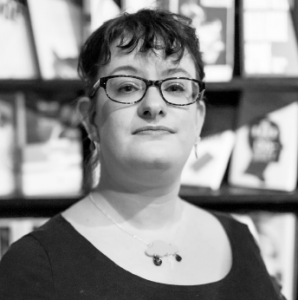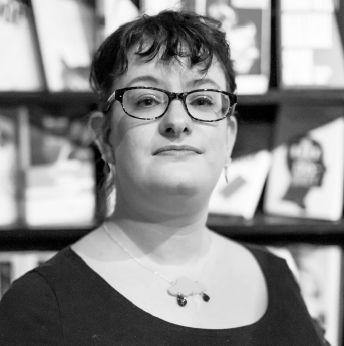 Kaite Welsh is an author, critic and journalist. You may have heard her on BBC Radio 4's Woman's Hour. Her novel The Wages of Sin, a feminist historical crime novel set in Victorian Edinburgh, is out from Headline in June 2017. She also throws a cracking Eurovision party.
And here's how she answered our questions:
?!:  The theme of the first Interrobang is The First Time. When did you first realise you wanted to write?
KW:  I remember being around 8 and deciding I was going to be a poet. I stayed up all night once and wrote 26 poems, all of which were dreadful, and several pictures of horses to accompany them although most of the poems weren't even about horses. People think I'm productive now, but when I was 8 I was on fire. In the end, my poetic abilities didn't stay with me to adulthood – I was in my first year of uni when I realised that if I wanted to be a writer I had to, you know, write something and spent a few years writing short stories and experimenting with literary fiction (although it turned out that was just a phase).
?!:  And what's the first book you remember reading?
KW:  The first book I remember being read to me was The Hobbit, when I was around 2 or 3. My mother read it to us as a bedtime story, complete with voices – I'm pretty sure that's where Andy Serkis took his Gollum voice from. Then, when I was learning to read at primary school, I remember her taking this hardback Everyman edition of Jane Eyre down from the bookshelf, reading the first few pages aloud and saying to me "This is why you're learning to read."
?!:  What song would you like as your entry music? Or should we just choose something?
KW:  My wife and I eloped and I never got a chance to walk down the aisle to The Wedding March, so that or the James Bond theme. It's my jam.
?!:  What are your most and least favourite words?
KW:  Most: "We'll pay you." Least "There'll be terrific exposure!"
?!:  Anything else you'd like to share with us?
KW:  My first book, The Wages of Sin, is out next year. It's a historical feminist crime novel about a fallen woman turned medical student turned detective in 1890s Edinburgh. It's available for pre-order if you want to get your hands on it the moment it's published, although like they say in the Bodyform advert, you don't have to – you just can.
Thanks a lot to Kaite for indulging Interrobang's Interrogation. Come along to Interrobang – The First Time on 7 October and find out why you learned to listen!