We've had our First Time, and let us tell you, it was pretty memorable!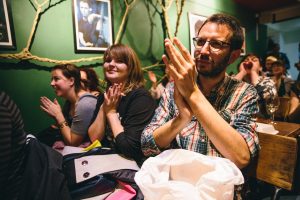 Thanks to our featured guests, Stuart A. Paterson, Kaite Welsh, and Ross McCleary. Thanks to our brilliant volunteer performers. Thanks to our intrepid "Margery" and "Gerald" for submitting to Jacques' Big Two-Hander.
Thanks to Jacques Tsiantar for gently initiating Gerald and Margery into our recurring bit, and for handling the sound desk. Thanks to Ricky's bandmate in Nerd Bait, Paul, for providing music. Thanks to Andrew Perry for these awesome photos, and for mucking in at the door. Thanks to the folks at Woodland Creatures for taking such good care of all of us.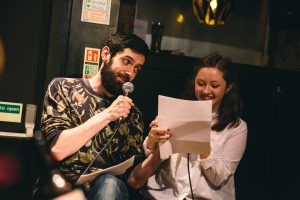 Most of all, thanks to our audience for taking a chance on our first time as Interrobang?! – your enthusiasm really made the night for us! We think Stuart put it best:
Not a single appreciative, reverential 'mmmm' was heard after any poem. Great crowd, loud crowd, love it!
Now Interrobang?! is booked in for two more preview shows at Woodland Creatures on the first Friday of November and December. Keep checking in here or on our Twitter or Facebook for more details as they emerge. A cracking second night is already taking shape!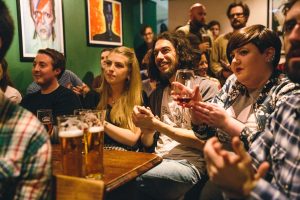 But first, Beth and Ricky will be performing in a half-hour slot at the Oxjam Edinburgh Takeover this Friday, 15 October. Their set will take place at the Grassmarket Community Project, and begins at 2:45pm.
For its spoken word strand, Oxjam is particularly interested in
poetry and writing that experiments with music and material that addresses feminism or poverty
and we can exclusively reveal that Ricky Interrobang's bit will hit at least two of these bases with the help of Nerd Bait. Beth Interrobang has some awesome stuff up her capacious creative sleeves, too!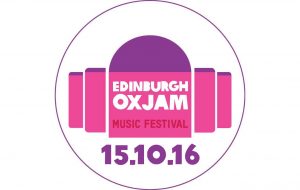 As a friend of Interrobang?! you can take advantage of discounted tickets at this link. And your ticket will give you complete access to five venues around Old Town and 30+ acts from Edinburgh's music and spoken word scene!
All the money raised will go to support Oxfam's Emergency Fund, which provides clean drinking water and sanitation to communities hit by disaster.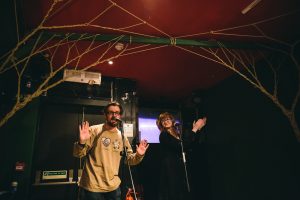 Save
Save
Save
Save