Since we started INTERROBANG?! Ricky's quietly fantasised about getting to do an Interrobang Interrogation. And with our exciting We Are Watching show with Scottish PEN just around the corner – Friday, 30th June at 7pm, at the Bongo Club – this seemed like a good time to take the plunge.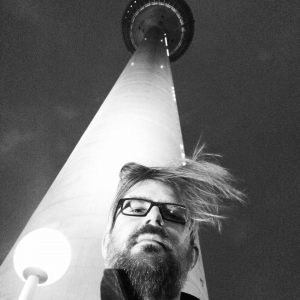 As well as curating and hosting the adorably edgy INTERROBANG?! –  winner of the Saboteur Award 2017 for Best Regular Spoken Word Night – with Beth Cochrane, Ricky's fiction and non-fiction has been published in various books, magazines and journals, most recently 404 Ink's The F Word. He's also in the world's most science-literate band with Stephanie and Paul. Take that, Prof. Brian May!
And here's how he answered the questions in our latest Interrobang Interrogation:
?!:  You're a writer, an artist, and you've been granted the opportunity to be a fly on the wall anywhere, any time, and collect material. Where do you go?
RMB:  

We had a similar question for our Now Is Not The Time show, and folks tended to want to go back in time. I think I'd like to go to… 2030. Things are so different to when I was in my early teens – from domestic and international politics to how we watch TV – I'd love to see what a kid born today would be seeing in thirteen years.

?!:  We are watching – a piece of theatre, TV, cinema, performance art to chill out before the show. What is it?
RMB: 

I dunno about "chill out", but I've always been intrigued by the BBC's BAFTA winning Edge of Darkness. That chilly mid-eighties drama vibe seems to resonate with some of the themes of surveillance and investigation. (Actually, watching that sort of thing is exactly how I chill out.)
?!: What's the secret that you're keeping close? The internet won't tell anyone, promise! 😜
RMB:  

I don't believe you, t'internet. But I will tell you that there is a secret I'm keeping right now, and I drove co-host Beth mad with it until I unwittingly spilled the beans 'cos I was so excited. Stay tuned…
?!:  Wait! Someone's listening in on your secret! You put on a piece of music to drown it out. What are we listening to?
RMB:  
The Hood remix of Mogwai's Like Herod. The quietquietLOUD aspect of it should blow out the mic or the headphones or something.
?!:  The spooks are listening in to learn about what you're planning to share with us at We Are Watching. Without being too spoiler-ific, what can you tell us about what they hear?
?!:  

It's two short bits. One's a quite light-hearted piece – called History, I think. The other probably involves props?!
Thanks a lot to Ricky for indulging the INTERROBANG?! Interrogation! (You're welcome Ricky!) Ricky's going to be introducing some fantastic talent at INTERROBANG with Scottish PEN: We Are Watching – and some surprises, too.
Find out more at the Bongo Club's event page, and save 17% on admission for spending on tasty, tasty booze.
SaveSave