It's been one heck of a time since our last regular INTERROBANG?! event.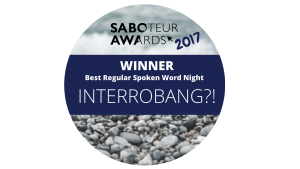 We were voted Best Regular Spoken Word Night at the 2017 Saboteur Awards.
We had the huge pleasure of presenting our collaborative single-story night Ghosts of the Citadel at the Hidden Door Festival.
Some other things happened, too.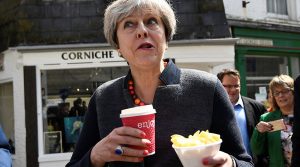 And some grimmer stuff, as well.
So, come bury your head in the sand with your hosts BETH COCHRANE and RICKY MONAHAN BROWN and Edinburgh's greatest living writer of the volunteer-perfomed, two-handed, comedic playlet, JACQUES TSIANTAR, as the very slightly naughty, Saboteur Award-winning INTERROBANG?! returns to the Biscuit Factory for an afternoon of storytelling, creative non-fiction and music, possibly with a small side of teeth-gnashing and farmer-bothering.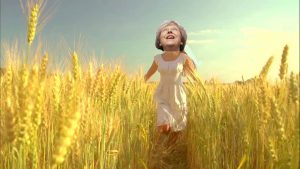 THE LINE-UP:
• JEN MCGREGOR is an Edinburgh-dwelling Dundonian raised by Glaswegians. Her plays have appeared at the Piccolo Theatre in Milan, the Traverse, and the Festival Castel dei Mondi. She has been published by New Writing Scotland, Bare Fiction, and 404 Ink.
• BECCA INGLIS is a creative non-fiction writer and theatre reviewer based in Edinburgh. Her essay Love in a Time of Melancholia appeared in 404 Ink's collection Nasty Women, and her article When Women Steal the Patriarchy's Toys: Feminism as Terrorism was published by the Dangerous Women Project. Becca has also blogged for Hollaback!, Linguisticator, and Lunar Poetry.
• JONATHA KOTTLER is from Albuquerque, NM where she was a lecturer at The University of New Mexico. She is a happy member of Edinburgh's Write Like A Grrrl community and runs a reading and writing group for the local charity ECAS. She read a piece at Story Shop in the EIBF 2016, has an essay in 404 Ink's Nasty Women, and has written for The Guardian.
• THE DIRTY LIES are a Scottish alternative group whose influences include Can, Radiohead and The Velvet Underground. Their guiter-laden sound is infused with synth noise, electronic drums and jazz. Blurring the line between indie and electronica, they have been steadily making a name for themselves in the Lowlands following 6 Music airplay with their debut EP, Release, and followup Cellophane. Their live set is raucous and expansive, while embedded with delicate harmonies. "It's all about good tunes, tight playing, a real sense of dynamics and a walk on the dark side" – John Robb, Louder Than War.
Suggested £5 on the door.
(*Wheat not included.)
SaveSave